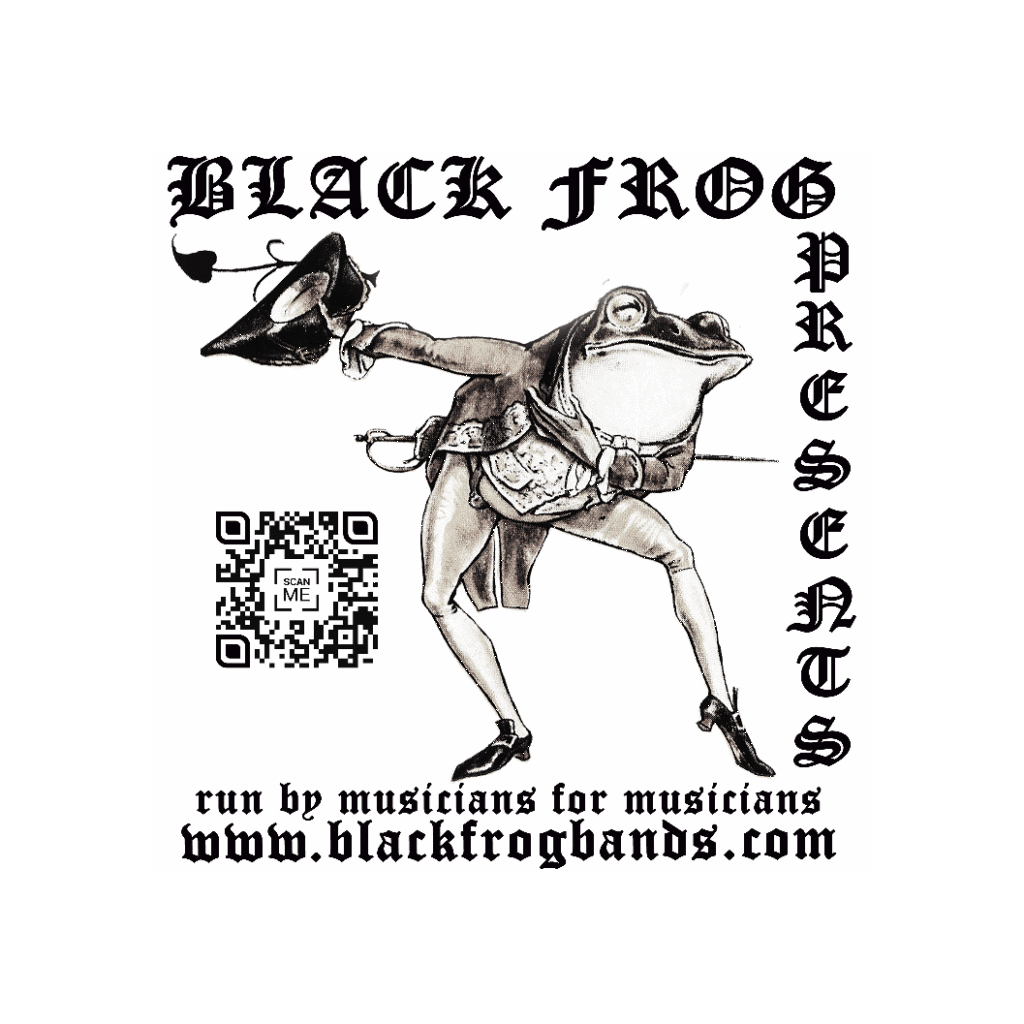 Black Frog Presents live music
At the Chelmsford Social Club 55 Springfield Road, Chelmsford CM2 6JG.
We offer free parking in this car park do not park in Tescos but you must register your registration in the tablet as you enter the venue
We are also putting shows on at The Hot Box on Viaduct Road in Chelmsford
Next to the Chelmsford bus and rail stations
Stay tuned to this site and our social media pages to find out what we have lined up
You can pre-book all gigs with a call or text to 07508 496411 or via
https://www.wegottickets.com/BlackFrogPresents
Our next show at the Social Club is below on Friday 9th February 2024
Featuring many great acts
We are working hard and have lots to tell you so please check all of the pages so you don't miss anything. Please read all the below first as we have had lots going on in 2022 and we are now nearing the end of 2023 and we are busy booking a few more acts to fill 2024 up as well as the Hot Box in Chelmsford.
You can book your tickets with a text or call 07508 496411 and we will confirm via text or book via https://www.wegottickets.com/BlackFrogPresents for all info go to www.linktr.ee/BlackFrogPresents
We are booked fully for 2023 and have started on 2024 at the Chelmsford Social Club:
We have had this year 2023 Nine Below Zero on Friday 20th Jan and LED-INTO-ZEPPELIN on Friday 3 Feb, The Orbison Project on Friday 10 Feb, The Overtures on Friday 17 Feb, The Verity/Bromham Band with John Verity (Argent) and Del Bronham (Stray), Martin Turners ex Wishbone Ash Fri 3 March, Some Kinda Wonderful (Derek Nash band & Noel McCalla Performing the Music of Stevie Wonder) Friday 10 March, Post Floyd Dream + Rostock on Friday 24 March, Bamboozle + 251's Friday 31 March, JEFF BECK a celebration & tribute to Jeff by some of the UK's finest guitarists Friday 7th April, Robbie McIntosh and his Band + Mim Grey. Robbie is regarded as one of the world's finest guitarists the show is on Friday 21 April, Take It Easy- The American Classic Rock Show Friday 28th April, Whos Next on Friday 19 May, Julie July Band (The Sandy Denny Experience + Dandelion Charm on Friday 26 May, Eric Bell (Thin Lizzy) on Friday 2nd June, NOASIS on Friday 9 June, Town Of Cats Friday 16th June, Back Street Crawler Fri 23 June, Band Of Friends (Rory Gallagher) + Big River Fri 30 June, Hamish Stuart (Average White Band, Paul McCartney, Ringo Starr, Chaka Khan) + Katy For Kings Friday 14th July, The D'Ukes on Friday 8 Sept, The Kast Off Kinks Friday 15 Sept, Carnaby Army Friday 29 Sept, Mim Grey Band + Robbie McIntosh and Steve Wilson Friday 6th Oct, The Korgis Friday 13 Oct, Albert Lee Band + Zoe Schwarz & Rob Korral Friday 20 Oct, Terry Superlungs Reid + Del Bromham Friday 27th Oct, Imagine The Beatles Friday 3 Nov, Wille & the Bandits (Wille acoustic duo) + Joe Anderton Fri 10 Nov, Voodoo Room on Friday 17 Nov, Small Fakers + The Veras on Friday 24 Nov, Connor Selby band + Rostock Friday 1st Dec, Totally Blondie on Friday 8th Dec. OUR NEXT SHOW IS –
Below see who we have booked Malcolm Bruce (son of Jack)
For The next HOT BOX show in Chelmsford on 20th January 2024
For our live shows and the ticket links & info go to www.linktr.ee/BlackFrogPresents and find all our links there for our shows our live streams and much more. You can also pre-book our shows with a call or text to 07508 496411 then pay by card or cash at the door without any commission.
We were the winners of the best one-off event in the 2021 Panic Awards for our Black Frog Presents and Isolation Festivals that we did last year with 195 acts playing online over 12 weekends. We were also finalists in 2022 as promoters of the year and venue of the year.
We were finalists in the 2021 UK Blues Awards for the best festival for our Isolation Music Festival Black Frog Presents.
We returned to Live Music after Lockdown on Friday 25th June 2021 with Slim Chance and The Ugly Guys who played a stunning live show at Chelmsford City Football Club in the UK and both will be back playing at our new venue on Friday 2nd December 2022. Keep an eye out for all the great acts we have booked for this and next year and we plan to stream all the shows live and make them available for 72 hours from the start as well, so you don't miss anything.
You can view the live stream shows via www.momenthouse.com/BlackFrogPresents or on YouTube you can see past and present shows and more at www.youtube.com/c/BlackFrogPresents
all tickets for all shows are available at htpps://www.wegottickets.com/blackfrogpresents
We are Black Frog Presents. Nick, Jevon and the team are now putting on live music at the Chelmsford Social Club 55 Springfield Road Chelmsford CM2 6JG (at the rear of Tesco opposite the Two Brewers and Cycle King) now in our eighth year of putting on some great shows and we will all continue to put on live shows now at Chelmsford Social Club of all types under our Black Frog Presents banner. We are also putting on music at The Orange Tree pub in Lower Anchor Street in Old Moulsham Chelmsford, and the Hot Box Viaduct Road Chelmsford CM1 1TS. In the past, we have had the likes of and we are rebooking many of these, Albert Lee, Jim Cregan, Chris Farlowe, Los Pacaminos, Benny Gallagher, Slim Chance, Wille and the Bandits, The Pretty Things and Robbie McIntosh and many more. The plan is that Black Frog Presents will be putting on weekly events at Chelmsford Social Club live and online and we will continue to bring you the best in live music. We will also be putting on shows mainly acoustic at the Orange Tree in Chelmsford and we have now started at The Hot Box in Chelmsford which is exciting for us.
Who are we at Black Frog and what do we do and offer you? Besides all of the great acts we have, we also have some of the top session musicians and some top hit-writing songwriters available. Next to all that, we have PA hire to suit a small pub up to small festivals of about 1000 people with our up to 7K rigs and lights. We also have top sound engineers and if that is not enough we can take care of all your recording for you whether it be live or in a studio, we have all the kit and the recording engineers and producers. We can also help in the manufacture of vinyl, CDs or on a stick with our Black Frog Records, we can even help with the making of videos and with live streaming. So we feel we really are a one-stop-shop for musicians which is run by musicians for you without the corporate rip-offs.